Meiji Shrine (明治神宮 Meiji Jingū) is dedicated to Emperor Meiji (1852-1912) and his wife Empress Shōken. Every New Year's Day, as many as three million people come here to make their first shrine visit of the year, by far the biggest crowd in Japan.
It is the most important and popular Shinto shrine in Tokyo, hosting many festivals and ceremonies.
Outline
Meiji Shrine was built in 1920, 8 years after the Emperor Meiji passed away. It was destroyed by fire in 1945 during World War II, but it was rebuilt in 1958 by public donations.
The Emperor Meiji was the first emperor of modern Japan. He ascended the throne at the peak of Meiji Restoration when the emperor lost the power.
He promoted friendship with overseas countries by opening Japan's door to the outside world. During the Meiji period (1868-1912), Japan was modernized and westernized.
The Empress Shōken promoted women's education and worked for the establishment of the Japan Red Cross.
The shrine is located in a forest that covers an area of 70 hectares (170 acres). This area is covered by an evergreen forest that consists of 120,000 trees of 365 different species, which were donated by people from all parts of Japan when the shrine was established.
View Point
Wooden Torii Gate
Torii is the entrance gate to the shrine. This shrine's torii is the largest wooden torii in Japan. It is about 12 meters in height, with pillars 1.2 meters in diameter. It is made from hinoki (cypress trees) more than 1,500 years old, which were cut dowon from Mt. Dandai-yama in Taiwan.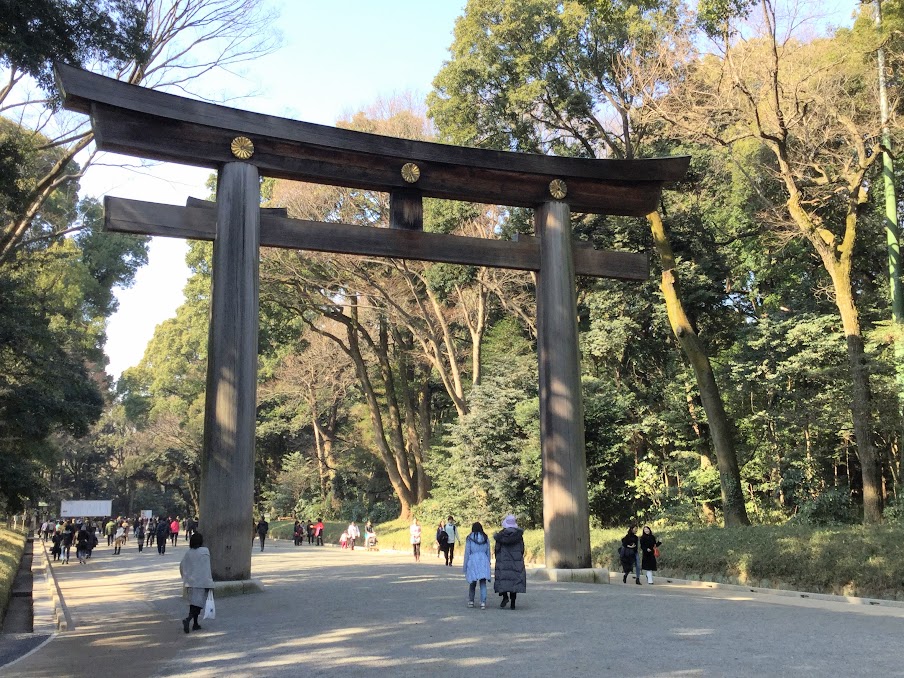 If you look at the top of the torii, it's stamped with the Chrysanthemum Seal (the seal of the Emperor of Japan). Amongst shrines, a stamp from the Emperor is the ultimate status.
Barrels of sake
There are many collection of empty sake barrels. They are called "kazaridaru" in Japanese, which means "decoration barrels".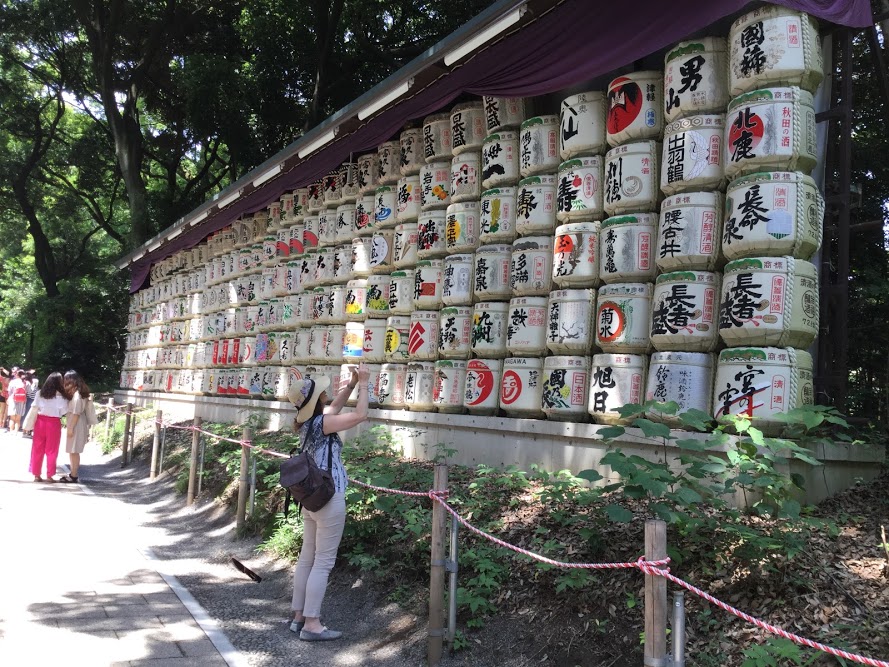 In Japan, sake was believed to have a connection between the gods and people. These barrels were donated by sake brewers from around Japan for shrine ceremonies and rituals.
Temizuya
Before proceeding to the main shrine building, you have to stop at "Temizuya" to purify yourself.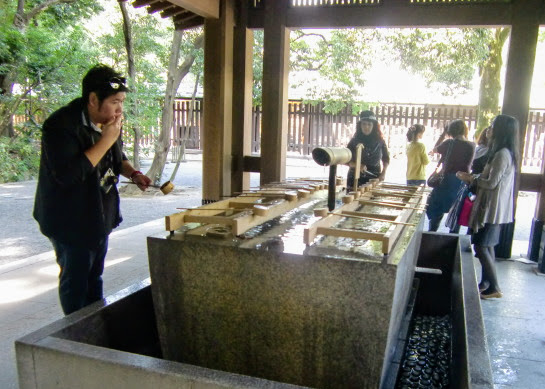 At first, you wash your left hand and then your right hand using water from the stone basin. Next, you rinse your mouth using water from the dipper.
Main Shine Building
There is the offertory box. You may throw some small coins into this box. First you bow twice. Then, you clap your hands twice. Your may make a wish while you pray. Finally, you bow once again.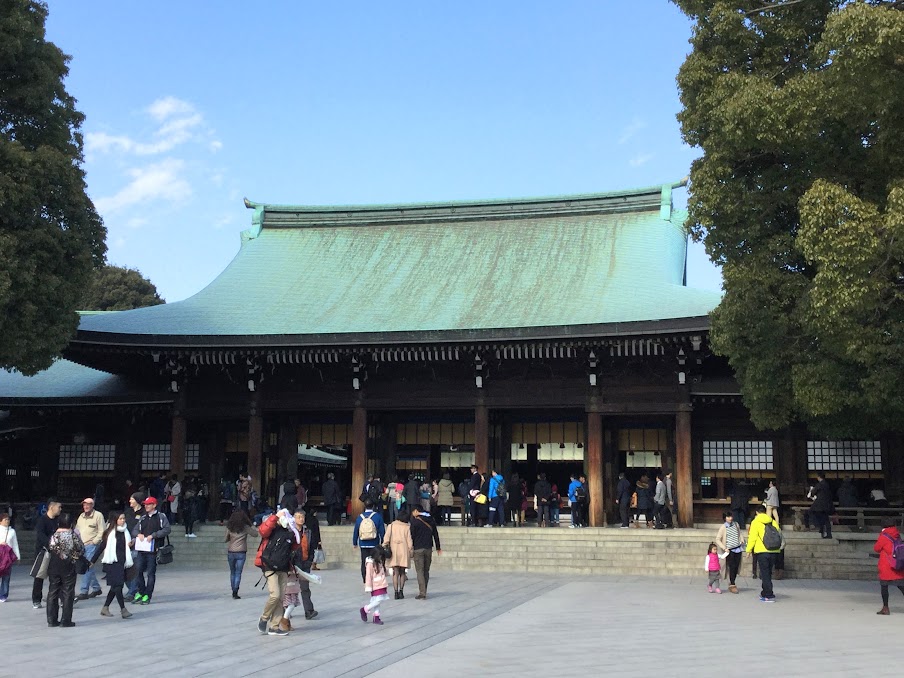 You should not take photos and videos close to the main shrine building. You have to preserve the dignity of this holy place.
Traditional Japanese Wedding
Japanese Shinto wedding ceremonies are held at Meiji Shrine daily. The bride and groom wear Japanese wedding kimono. You can probably see newlyweds on weekends. If you see them, you are lucky!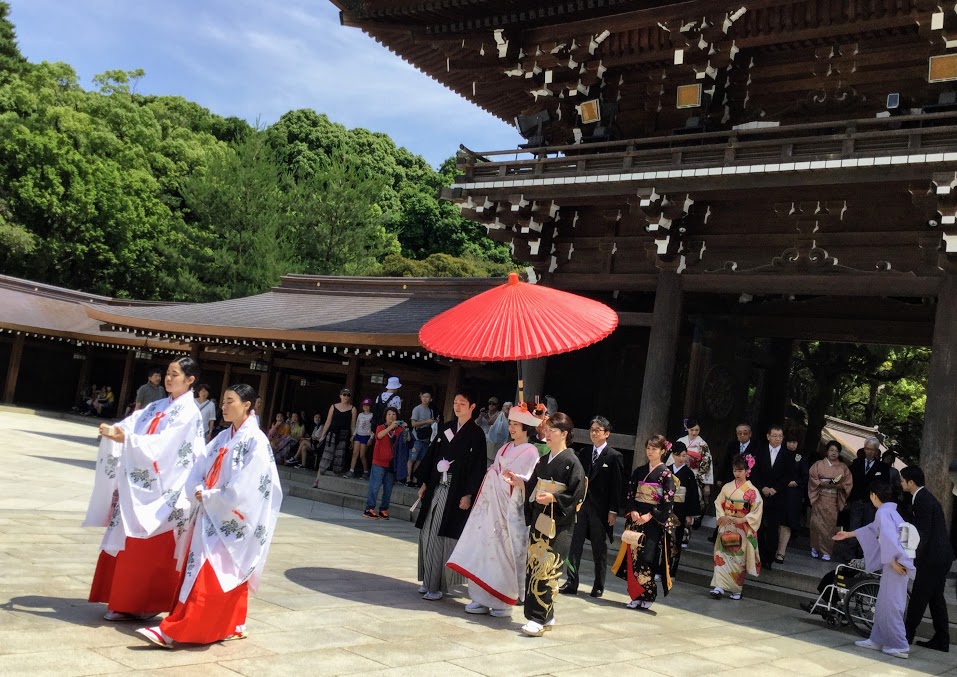 Iris Garden
During the rainy season in June, the beautiful garden is open to visitors of Meiji Shrine.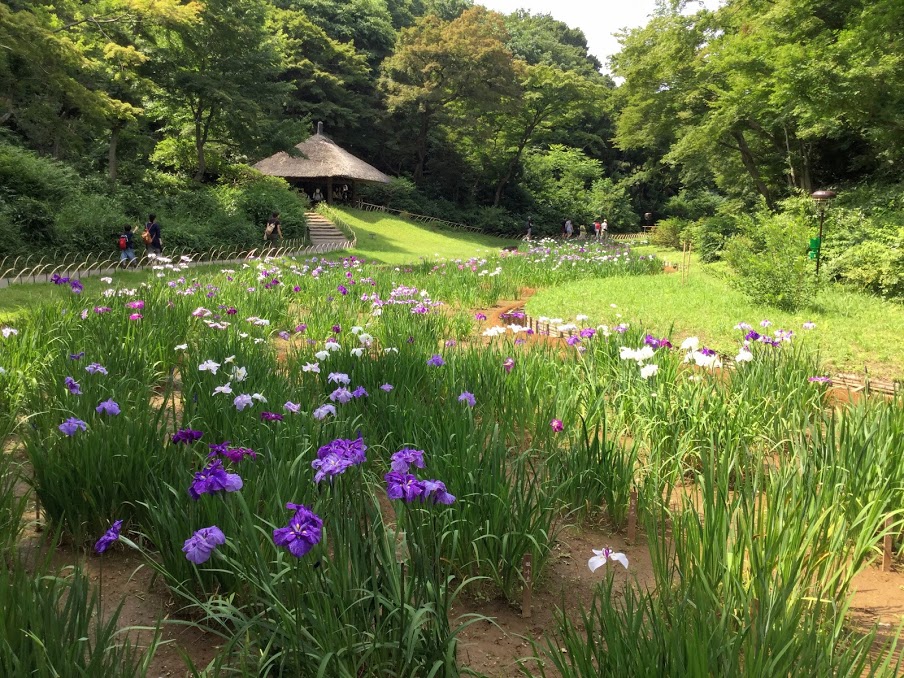 The shrine area is free to the public, but there is an extra charge of ¥500 to get into the garden area.
Access, Hours and Admission
Location
1-1 Yoyogikamizono-cho, Shibuya-ku, Tokyo
Google Maps
Access
Harajuku Station (JR Line) – 1 minute walk
Meiji-jingumae Station.(Metro Chiyoda Line/Fukutoshin Line) – 1 minute walk
Yoyogi Station (JR Line) – 5 minutes walk
Open Hours
From sunrise to sunset / Open 365 days a year
※The garden is open from 8AM to 5PM ( 6PM on Saturdays & Sundays)
Admission
Free of charge
※Admission of the garden is 500yen.