Asakusa is one of the oldest and most exciting spots in Tokyo.
Typical sightseeing route in Asakusa is starting from Kaminarimon Gate. From there, people tend to walk through Nakamise Shopping Street. And from there, they go to Sensoji Temple to pray.
Asakusa is so much worth visiting that you can spend as much as 2 hours in it.
Kaminarimon 雷門
Kaminarimon Gate is the front gate of Sensoji Temple. The huge red lantern at the center is a symbol of Asakusa.

Nakamise Shopping Street 仲見世通り
After entering Kaminarimon Gate, you can see Nakamise Shopping Street. There are a lot of souvenir shops and you can also buy many foods.

This shop sells Japanese confectionery.

You can eat there. Very delicious!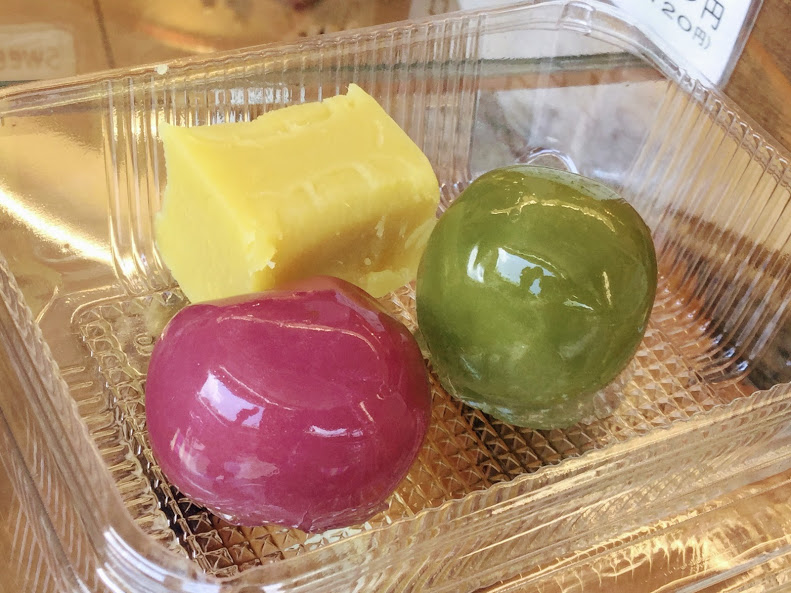 This shop sells T-shirts, postcards and other items. They are good as a souvenir. However, not all the products are made in Japan. If you want to buy made-in-Japan products, you should ask the clerk.

This is a Kimono shop. Kimono price are reasonable here.

This is a rice cracker (senbei) shop.

Sensoji Temple 浅草寺
You can see Sensoji Temple at the head of Nakamise Shopping Street.

Omikuji(Written fortune) おみくじ
You can draw for an "Omikuji" (Written fortune) by 100 yen.

If the fortune is good, the paper is taken home. If not, it is tied here.

Rickshaw 人力車
You can enjoy the streets of Asakusa by Rickshaw. (Some drivers can speak English)

Price is a little expensive, but it worth it.

Here is a video of me riding the rickshaw.

The driver not only drove but also told us about Asakusa.
Sumida River Cruise 隅田川クルーズ
You can go to Odaiba and Hama Rikyu Garden from Asakusa by sightseeing ship.

There are one or two ships an hour to Hama Rikyu Garden, but only three direct ships a day from Asakusa.

Eat 食べる
There are a lot of restaurants in Asakusa, so finding a place to eat won't difficult.
Set Menu is very reasonable.

This Fish-dish Set was 1,500 yen. It tasted really good.

There are many Tempura restaurants in Asakusa.

This is "Tendon" (tempura-over-rice-bowl). It cost 1,500 yen.

This is "Okonomiyaki" (Japanese-style pancakes or pizza). They are my Australian friends and they enjoyed making and eating it.